I found a sturdy wood buffet at our local Goodwill. I had been looking for a simple buffet without a hutch forever in thrift stores and on Craigslist for our dining room. I found this one for $19.99 and knew it would be a good piece to try our first furniture redo with.
After we got it home, we decided to pick out some primer and paint at our local Home Depot. The hubby and I decided on a nice yellow to match the colors in our dining room. We got a bit of direction for the salesman at Home Depot and figured we could easily do this furniture redo.
Our buffet sat in the garage for months. We just seemed to lack the motivation to complete it. That is until last week, when my hubby decided he was tired of looking at it. Within hours our buffet went from this: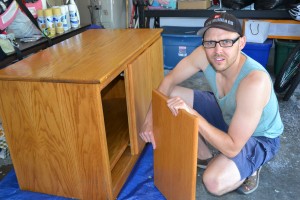 To This:
Here is what we did:
Because the piece was in good shape we didn't  have to sand it down. Normally if it was not so smooth you'd want to rough it up a bit with a sander.
We took primer and sprayed it with one coat. (Doors were taken off first.)
After primer dried (within 1 hour) we sprayer on first coat of yellow paint.
When the first coat dried we decided to do one more coat of yellow paint.
We added new hardware (none existed on this piece before) as well.
Have you redone furniture?
What pieces have you refinished?
We loved it. Now we are looking for a small wooden desk for my daughter's school work.