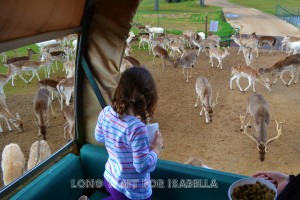 Only, 30 minutes from the hotel we are staying in is one of the coolest things we have done while traveling on the road – Global Wildlife Center. The largest totally free-roaming wildlife preserve of its kind in the country! The Global Wildlife Center in Folsom, Louisiana is home to over 4,000 exotic, endangered, and threatened animals from all over the world.
We arrived in time for the first tour of the day and puposely chose the back of the caravan, hoping that the giraffes would come to us. We purchased a big bucket of food to feed the animals, and once the Zebras came over they followed us around the entire center. Unfortunately, the giraffes (which my Princess love) did not even come over to our caravan at all. We were disappointed, but with all the other animals, we still had a great time.
We feed deer, zebra, camels, longhorns, and animals that I can't even remember their names. It took about 1 1/2 hours, and it was well worth the money spent. They also had a huge pond with catfish to feed, huge turtles, and kangaroos. We packed our lunch and ate after the tour right on the property.  We highly recommend the Global Wildlife Center!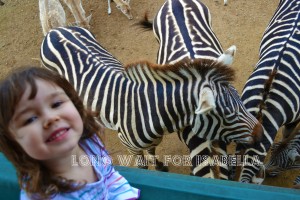 My Princess' favorite thing was feeding those Zebra. You couldn't pet them or feed them out of your hand because they sometimes bite, but they run right along side the car and open their mouth sideways for you to pour the feed in!