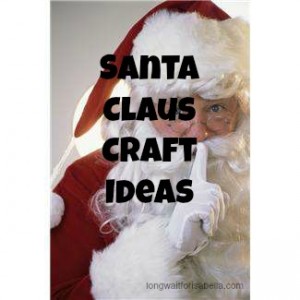 We had to go to our local mall this week. While playing at the playground inside the mall, guess who walked by?
He stopped to say hello to my Princess and give her a hug and a candy cane. 
She was overjoyed. 
Last year she was
terrified of Santa Claus
. This year she hugged him, and excitedly said,
"He is real!"
It was so cute.
So now, my Princess believes in Santa Claus, officially. I didn't think it would be so much fun to have a child believe in Santa Claus. As a child, I remember thinking he wasn't real. Our family didn't get into Santa Claus much at all. When presents said, From: Santa Claus, I believed it was my Grandparents.
So in light of this new Santa Claus phase, I wanted to share a few easy yet fun Santa Claus kids crafts with you all.
Christmas will be here before you know it!
Do you have any great Santa Claus kids crafts to share?
Please leave me a comment and let me know where to find it!