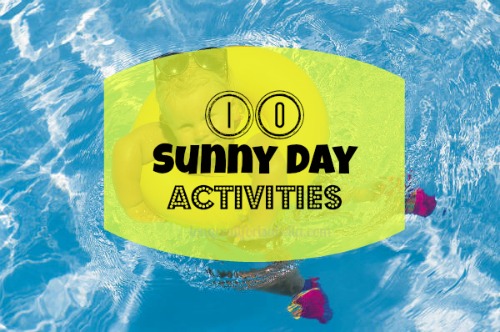 I do admit that we are blessed to live in such great weather. Here are our top ten things to do this time of year, weather I like it or not (weather is spelled incorrectly I know, but some days I just feel clever. Ha ha ha.)
1. Fill up the inflatable pool so bugs can land in it and Isabella can get her protein for the day while she drinks the water (telling her no is not working).
2. Go for a walk in the stroller to the post office, bank and library. Dread the large hill to walk up but accept it since it will help work off this large back end of mine.
3. Go to the park, play on the slide and swing. Run in fear away from the geese. Feed the geese with old bread.
4. Go to the zoo (and use lots of antibacterial wipes because all those rails and glass might just have H1N1 virus!)
5. Go to the lake and try not to pay attention to the icky algae and work on my non-existent tan.
6. Go to the public swimming pool and try not to think about all the urine. (Hey! Warm spot, swim away!)
7. Leave the sliding glass door open so Princess can go in and out and mommy can bring her laptop to the kitchen table and waste time spend valuable time on the internet.
8. Hike the trails at Weimar since they are mostly in the shade, and pick some fruit when the trees and bushes are ripe.
9. Put on sunscreen. Well, that is one of the Princess' favorite things to do this time of year. She wants the lotion on her arms all day long.
10. Eat lots of fruit. Watermelon, pineapple, strawberries, and grapes are our favorite.
What are your favorite sunny day activities?