We love having a fun yet educational travel game with us when we go to all over North America for my husband's work. (We travel so much, we have a lot of fun things we can do.) We are homeschooling our Princess and love to include games in her preschool homeschool time. So, when the opportunity arose to review Zingo! To Go from Thinkfun, I jumped at the chance. I knew my Princess would love this game that is for travel and like classic Bingo.
About Zingo! To Go
Take Zingo! zaniness on the go! Everything you love about original Zingo!, in a fun, portable package. Shake the Zingo! Zoomer Car to expose the two dice. Got a match? Turn over the corresponding light on your game board. Be the first to turn over a completed Traffic Light and you win! With no loose pieces and snap-together game boards, this Zingo! is designed for family fun on the go!
Features:
* Play with up to 9 players
* Easy to clean with no loose pieces
* Instruction manual features new game variations for hours of zany fun!
* Game-go bag for easy storage
Awards:
* Oppenheim Toy Portfolio Gold Seal Award – 2010
* Dr. Toy Best Vacation Children's Product – 2010
My Review of Zingo! To Go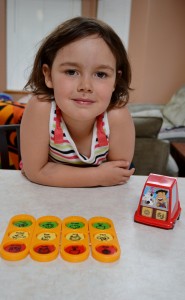 The day this educational travel game arrived, my Princess could not wait to try it out. We played our first game right on the kitchen counter. We tied! She was happy to take it that afternoon grocery shopping and played the game again with her dad. Then the next day she played it alone on the way to church. Let's just say she LOVES it. Simple to play with a four year old, it is just like the classic Bingo game.
The snap together game boards are somewhat difficult to attach together, so my Princess had to let us snap hers together. The pictures flip to create a traffic light and they are a bit stiff at first. After playing three games they loosen up though. We recommend this game to anyone with kids. Perfect for travel, easy to play, bright colors and recognizable pictures.
Connect With Thinkfun:
Buy Zingo! To Go:
Purchase your own Zingo! To Go from Thinkfun for only $7.99. It is so affordable and your child will love it. Perfect for back to school, in the car, on the airplane or for a gift.
Are you planning any family travel in the near future? If so, where you headed?
Win Zingo! To Go:
One lucky Long Wait For Isabella reader will win their own Zingo! To Go educational travel game in the Back to School Giveaway Spree beginning August 17th. Come back here for your chance to win this and other great prizes.
*Disclosure: I was given the above product for review purposes. All opinions are mine alone.