We buy a lot of produce in our household. We are 90% vegetarian and the meat we do eat is fish. We don't buy it in the grocery store though, we eat fresh Alaskan salmon caught locally. So when we go to the grocery store you will see a lot of fruits and vegetables in our shopping cart. Reusable produce bags are an excellent way to be eco-friendly while shopping.
About A Greener Kitchen:
Founded by Lacey Lybecker in 2009, A Greener Kitchen offers you sustainable style solutions for kitchen and dining with eco-friendly kitchen products and accessories, including organic cotton aprons and reusable produce bags. A Greener Kitchen is a Green America Approved Business and a member of One Percent for the Planet.
About Reusable Produce Bags
Each eco friendly bag is made using upcycled material left over from A Greener Kitchen's organic cotton aprons. 1% of organic cotton produce bag revenue is donated to the Organic Consumers Association. Each set contains two 6"x7", two 9"x9" and two 12"x16" bags. Hand wash or wash in cold water as needed using an eco-friendly detergent. Hang to dry.
My Review of A Greener Kichen reusable produce bags:
We love having these six bags in our reusable shopping bags. It is easy to fit these bags in our larger shopping bags. With 3 size options they are perfect for our produce needs. Below you will notice that one onion fits well in the smallest bag, 4 lemons fit in the medium sized bag, and romaine lettuce is great in the large bag.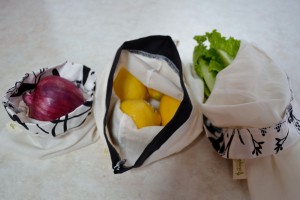 Have you used reusable produce bags before? 
Connect With A Greener Kitchen:
Buy Reusable Produce Bags:
You can purchase your own set of reusable produce bags at A Greener Kitchen. You can also find aprons and linens.
Win Reusable Produce Bags:
One lucky Long Wait For Isabella reader will win their own reusable produce bags in the Choose to Reuse Giveaway Event. Come back August 3 for your chance to win this and other great prizes!