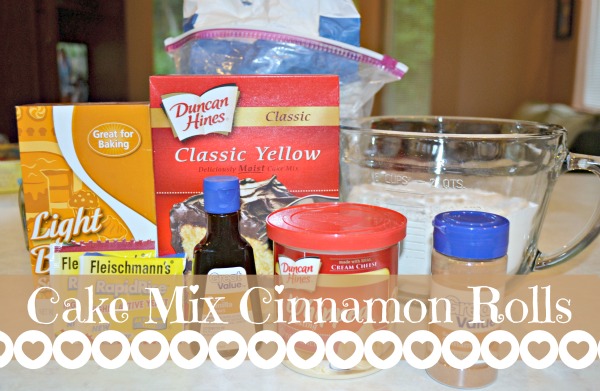 For Father's Day this year, I made my husband one of his favorite desserts – cinnamon rolls. But while on the internet I found that one blogger made these using a cake mix. Cake Mix Cinnamon Rolls? Really? How can I pass that up.
I mentioned previously that I started Weight Watchers in June, but I also admitted to taking my "free", extra 49 points day on Father's Day. That was so I could eat 2 Cake Mix Cinnamon Rolls. (I promise, I really only ate 2!)
So here it is:
Cake Mix Cinnamon Rolls
Ingredients for Cinnamon Rolls:
Yellow Boxed Cake Mix
2 packages of dry yeast
2 1/2 cups of warm water
1 tsp vanilla
1 tsp salt
5 C flour
Ingredients for Filling:
2 C brown sugar
cinnamon
1/2 to 1 C of butter
Frosting (I used cream cheese frosting already prepared)
Directions:
Mix yeast with warm water
Combine cake mix, salt and flour in large bowl
Add the yeast and water to the cake mix mixture
Mix well by kneading with hands
Cover tightly, and let rise one hour
Flour your surface and roll dough into rectangle shape 1/4 inch thick
Brush dough with butter
Cover with brown sugar and cinnamon
Roll dough towards you until it is one long piece
Cut into 24 equal sizes
Place rolls onto 2 graesed 9×13 pans
Let sit a bit longer to rise as oven gets hot (350 degrees)
Bake at 350 degrees for about 20 minutes
Remove from oven and let cool
Add frosting to warm Cake Mix Cinnamon Rolls
This was only the 2nd time I made Cinnamon Rolls, and it was not easy. Rolling this into a rectangle was difficult for me, but really in the end it didn't matter if it was perfect. I just made sure that it was 1/4 inch thick everywhere. Plus, my Princess happily helped make them for her daddy too. It was worth the work – they were YUMMY!
Of course, I didn't take a photo of these frosted. I wish I had. Sorry. Trust me though – they are delicious!
Cake Mix Cinnamon Rolls
Prep time:
Cook time:
Total time:
Make cinnamon rolls with a box of cake mix.
Ingredients
Yellow Boxed Cake Mix
2 packages of dry yeast
2½ cups of warm water
1 tsp vanilla
1 tsp salt
5 C flour
Ingredients for Filling:
2 C brown sugar
cinnamon
½ to 1 C of butter
Instructions
Mix yeast with warm water
Combine cake mix, salt and flour in large bowl
Add the yeast and water to the cake mix mixture
Mix well by kneading with hands
Cover tightly, and let rise one hour
Flour your surface and roll dough into rectangle shape ¼ inch thick
Brush dough with butter
Cover with brown sugar and cinnamon
Roll dough towards you until it is one long piece
Cut into 24 equal sizes
Place rolls onto 2 graesed 9x13 pans
Let sit a bit longer to rise as oven gets hot (350 degrees)
Bake at 350 degrees for about 20 minutes
Remove from oven and let cool
Add frosting to warm Cake Mix Cinnamon Rolls