Thank you Live Clean Baby for sponsoring today's giveaway.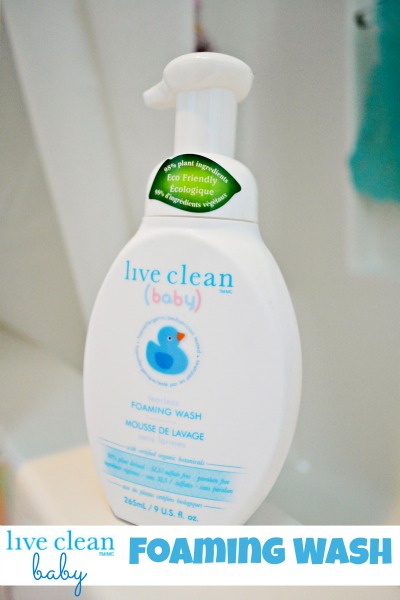 This year Live Clean Baby is proud to announce the U.S. launch of their new foaming wash to its family. Delivered with the Live Clean Baby promise of superior performance with natural, gentle ingredients. The new foaming wash joins the impressive line-up of Live Clean Baby products available exclusively at Walgreens and Walgreens.com. Every Live Clean Baby product is tear free, hypoallergenic, pediatrician tested and infused with Certified Organic Botanicals. The baby collection uses only plant sourced and non-petrochemical ingredients.
Live Clean Baby Foaming Wash
Simple to use and mom approved! Live Clean (Baby) Foaming Wash is enhanced with a convenient bath-time friendly pump which eliminates the need to use both hands to lather the wash. It pumps a gentle, rich foam at the touch of just one hand, allowing for baby to be comfortably held in one arm, while the other arm effortlessly washes to leave baby's dry skin soft and smooth.
265 mL, suggested retail $6.99
Enriched with certified organic botanicals of Chamomile, Lavender and Aloe
Made with 98% plant ingredients
Petroleum free
Paraben, Phthalate and Phosphate free
Enhanced with a convenient bath-time friendly foaming pump, this unique pediatrician tested formula moisturizes baby's dry skin, leaving it soft and smooth
I love the Live Clean Baby brand of products. I can trust them on my Little Man's skin. They are free of the commonly used chemicals that are found in many of the baby products on the market.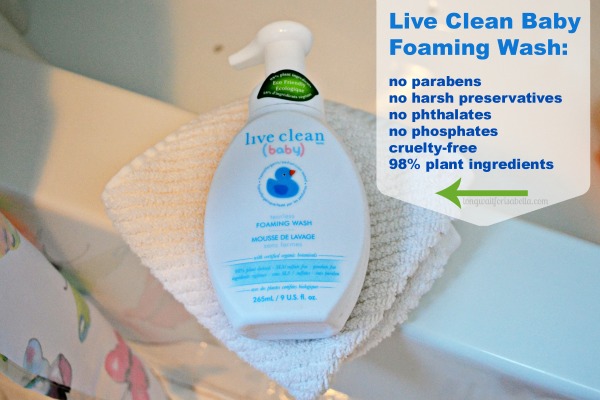 Live Clean is free of
parabens (preservatives used to extend the shelf life of personal care products)
harsh preservatives,
phthalates (chemicals commonly used to make fragrances last longer)
phosphates, known contributors to water pollution and all Live Clean products are also hypoallergenic.
Live Clean products are also cruelty-free; none of the products or their ingredients have been tested on animals.
For more information, please visit www.live-clean.com.
The Live Clean Mission:
Go green without compromising performance. Our mission is to provide a line of products that contribute to a greener planet and perform at the highest level. Live Clean Baby is a unique eco-friendly beauty care line that delivers exceptional results using natural and plant based ingredients. Live Clean Baby formulations are made with a minimum of 98%* replenishable, renewable and sustainable natural and plant ingredients…as good for the earth as they are for your body.
Connect With Live Clean
Disclosure: I was sent the above product for review purposes. All opinions are mine.