I have a sweet tooth. A bad sweet tooth. Each evening after all the people in my house go to bed, I stay up and look for sweet things to eat. If I don't buy the bad things, then I don't eat them, right? I just wish people would stop getting those bad things for my daughter. She doesn't care about eating her sweet treats, she lets them sit for weeks, months even. They are begging to get eaten. By mommy. She has no idea.
So when Werther's Original offered to send little ole me some of their new sugar free candies, I was happy to try them out. Indulging my sweet tooth with sugar free candies, especially while I am on Weight Watchers (sort of – I have been a cheater), well, I definitely wanted to put them to the test. Sugar free things don't generally satisfy a sweet teeth, you know?
I have fond memories of my grandpa eating the Werther's Original Caramel candies. He still often has them in his pocket along with other hard candies. I love getting those from him and I am well into my 30s now. But the original full sugar candies are tasty, so I was a bit skeptical about trying the sugar free variety.
Boy, was I surprised!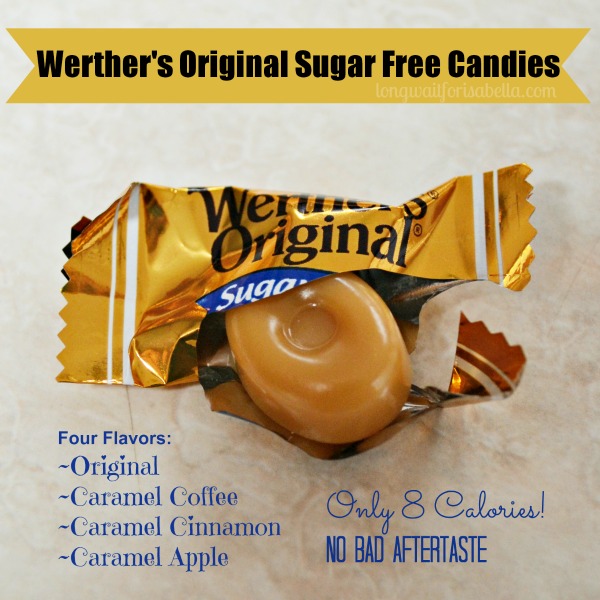 The rich, smooth, creamy taste of Werther's Original Sugar Free has all the caramel satisfaction you're looking for. With only 8 calories per piece and no aftertaste, it's easy to indulge in that comforting caramel you know and love. Enjoy all four of our delicious flavors: Classic Caramel, Caramel Apple, Caramel Coffee and Caramel Cinnamon.
I loved all the flavors of Werther's Original Sugar Free candies. My favorite flavor? Caramel Apple for sure! You honestly cannot tell that these are sugar free. They are that good. There is no sugar free yucky aftertaste either. You know that gross flavor that most sugar free drinks, candy, and foods have? It is not here. With only 8 calories, these are a guilt free candy that will definitely satisfy your sweet tooth.
My great aunt had high blood sugar. She is not diabetic but borderline. So she has cut out sugary foods, drinks and candy. She can't seem to find any sugar free candy that she enjoys. I cannot wait to see how she likes this one. I am sure she is going to love it as much as I do!
How do you satisfy your sweet tooth?
I was selected for this opportunity as a member of Clever Girls Collective, and the content and opinions expressed here are all my own.