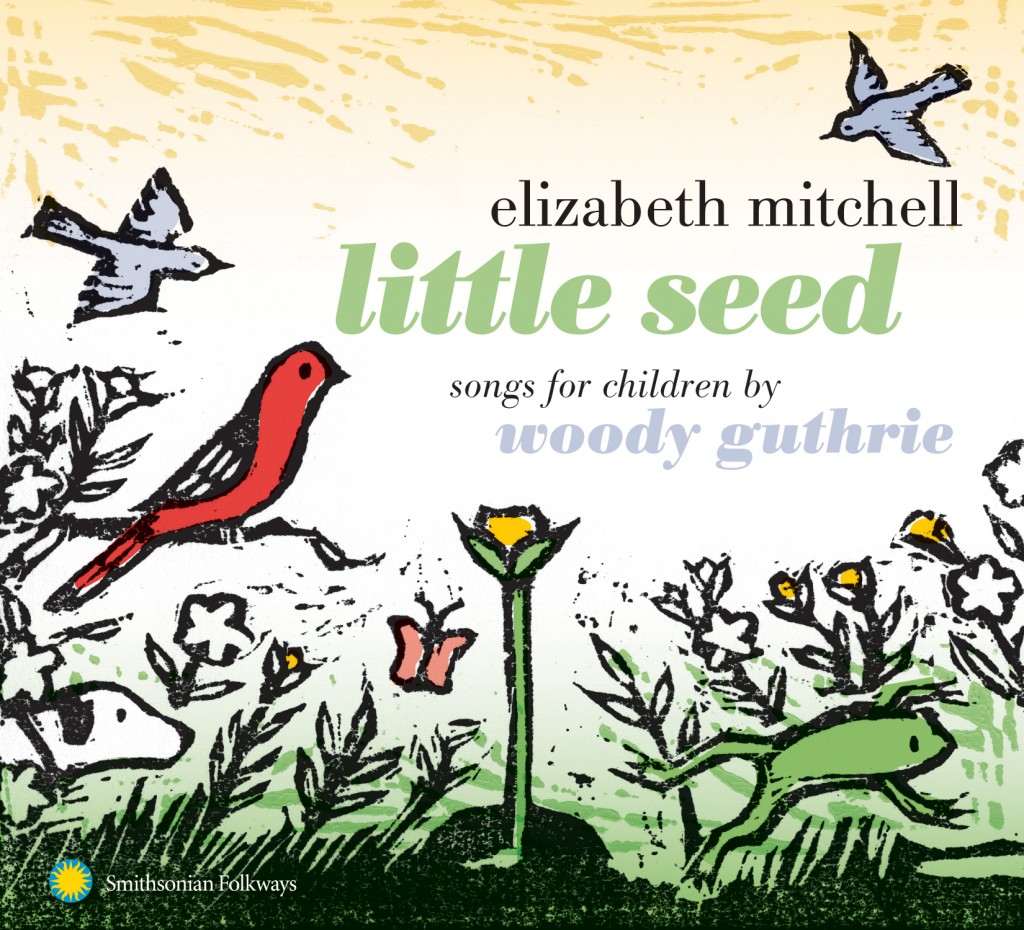 Yes, I do need children's music in our mini-van now. We are one of those families now. You know the one, where the 5 year old dictates what is being played in the car. I know, I am the parent, but to make her happy and therefore us happy I must play kids music. Some days that kids music can drive me crazy. Not so with Little Seed by Elizabeth Mitchell.
About Little Seed
In Little Seed, Elizabeth Mitchell embraces the gentle genius of America's musical bard, Woody Guthrie. The simple yet profound songs he wrote for his young children remind us of how the loving bonds between parent and child endure and are strengthened through music. Joined by family and friends, Elizabeth Mitchell offers us re-imagined renditions of classic Guthrie favorites. Her thoughtful versions pay tribute to Guthrie's uncanny ability to inhabit both the perspective of a loving, protective parent and the voice of a freewheeling child. Features eight newly-recorded tracks and five previously-issued favorites. 13 tracks, 29 minutes, 20-page booklet with photos.
Songs included in Little Seed:
1. Riding in My Car
2. Bling Blang
3. 1, 2, 3, 4, 5, 6, 7, 8
4. Why, Oh Why
5. Sleep Eye
6. Who's My Pretty Baby
7. Rattle My Rattle
8. This Land Is Your Land
9. Merry-Go-Round
10. One Day Old
11. Little Sugar
12. Grassy Grass Grass
13. Little Seed
Connect With Elizabeth Mitchell
Elizabeth Mitchell, a Smithsonian Folkways Recording artist, has been recording and performing music for children since 1998. You can connect with her on Facebook.
Also, Elizabeth Mitchell will be performing at The Mint in Los Angeles, CA on February 9th with the other Grammy nominees! If you are in the L.A. area you might want to check that out! You can find her complete schedule at her website You Are My Flower.
My Review of Little Seed
Little Seed by Elizabeth Mitchell has been nominated for a Grammy for Best Children's Album and I can understand why. We own Nursery Days by Woody Guthrie and were already familiar with his version of many of the songs on this album. I loved Elizabeth Mitchell's take on the songs. We are going through this bluegrass, folk music phase right now. My daughter, who is 5, is really into the sound. It is cute listening to her sing with a bit of twang.
Do you have kids? Do you normally like kids music? If not, then you have not heard Little Seed by Elizabeth Mitchell. You must check it out. You can listen to two samples at Smithsonian Folkways. The two free songs, Bling Blang and This Land is Your Land are actually two of my favorite Woody Guthrie songs. You'll see that Elizabeth Mitchell's voice is perfect for this album!
Win Little Seed
One lucky Long Wait for Isabella reader will win their own copy of Little Seed: Songs for Children by Woodie Guthrie on CD. Simply enter the Rafflecopter form below for your chance to win! Open to US residents 18+.
*Disclosure: I received a digital copy of the above album. All opinions are mine.