I watched what I ate more with my second pregnancy than I did with my first. Yet, I still gained 27lbs. I realize that losing the baby weight after a pregnancy takes time. It is a slow process. As I mentioned before, I am doing a weight loss program, but it is also important to exercise as well. This is why I am excited to review Dustin Maher's BabyTone Workout DVDs – a way to lose weight with your baby.
About BabyTone Workout DVDs:
BabyTone Workout DVDs were designed for the new mom who is crunched for time, doesn't have anybody to watch her kids, and feels guilty about leaving the new baby to go and workout.
It is an unique program that provides 8 workouts that last no more than 15 minutes each! Utilizing the baby, stroller and baby carrier, these workouts are designed to include baby and be fun.
BabyTone Workout DVDs review:
What a great idea! I love the BabyTone Workout DVDs. It is hard to get exercise in at times with a new born. This DVD incorporates exercise with baby and I love that. My favorite workouts are the workouts that use a baby carrier. The lunges are difficult but the burn is worth it. I also like the floor workouts on the mat – using baby for arm work is such a great idea. I definitely recommend BabyTone DVDs for new moms who want to lose the baby weight.
Buy It:
Purchase your own copy of the BabyTone Workout DVDs for $49.95 (+S&H) on the Fit Moms For Life website. These workout DVDs are backed by a lifetime guarantee.
Connect With BabyTone Workout
Join the Facebook Mom Community
Win It!
One lucky Long Wait For Isabella reader will win their own copy of the BabyTone Workout DVDs ($49.95 RV) in the Dog Days of Summer Giveaway Event starting August 1st! Come back for  your chance to win this and many more great products in the Grand Prize Package!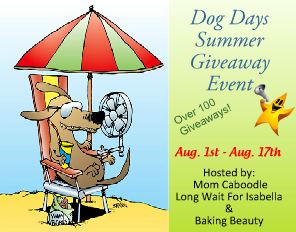 *Disclosure: I received the above mentioned product for review purposes. All opinions are mine.