While I was pregnant with baby #2, my Princess was always so curious about what was going on inside Mommy's tummy. I got a weekly email and would tell her little facts about that week. I wish I had The Miracle of Me to sit down and show her each week, what was going on inside Mommy's tummy. We are thankful to have the book now to read together.
About The Miracle of Me:
Inspired by her own need for a child-friendly resource to explain pregnancy to her young child, Amy Pedersen began her Christian parenting journey with The Miracle of Me from conception to birth. Written from the unborn baby's perspective, The Miracle of Me is an entertaining, yet medically-accurate, children's book about how the baby grows and develops each week.  Through the simple language and poetry as well as everyday objects like rulers and scales, pregnancy and fetal development are explained in terms that children can understand.  The most impacting feature of the book, however, is the beautiful in-utero photography.  Children (and adults alike) can visualize and appreciate the little one in the womb as a result.
The Miracle of Me Book Review: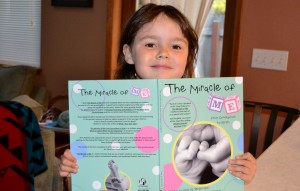 This attractive hard cover book is beautifully written from a Christian perspective. My daughter and I enjoyed looking at it and the photos are so great. Following each week of pregnancy, there are facts for all 40 weeks. This book is one that does not need to be only read during pregnancy. It can be read by adults and children anytime. It is a great reminder of the miracle of childbirth. I cannot wait to show it to my Little Man when he gets older.
Connect With The Miracle of Me:
Buy The Miracle of Me:
Purchase your own copy of The Miracle of Me on Amazon.com. It is the perfect for expecting mothers, grandparents, young siblings, friends who are due – anyone really!
*Disclosure: I received the above mentioned product for review purposes. All opinions are mine alone.