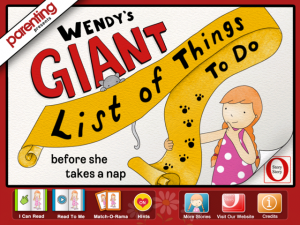 Do you have an iPad? Do you have young children? We love our iPad, it was the best thing we purchased last year for our daughter. She is 4 and half years old, loves learning, and gets bored very easily. Does this sound like your child? So when we are traveling, waiting for the doctor, or visiting friends or family we bring our iPad. I am always looking for great apps to keep my Princess busy and entertained. I appreciate apps that are educational as well. So when I had the chance to review a few of Parenting's O Story Story iPad apps I was excited and so was my Princess.
About O Story Story Apps:
There's a new line of interactive picture book and learning game apps for children: O Story Story. The O Story Story collection features original artwork and reading lessons created by Media Play Entertainment, with titles that focus on helping children ages 2 to 5 develop key pre-K educational skills.
Parenting's O Story Story collection includes:
· Wendy's Giant List of Things to Do Before She Takes a Nap ($2.99)
· Wendy's Giant List of Things to Spell ($0.99)
· When Things Go Wrong with Robots ($2.99)
· Things That Robots Spell ($0.99)
· Max Moo: The Case of the Pig in the Blanket ($2.99)
· Max Moo: The Case of Things To Spell ($0.99)
My Review of Parenting's O Story Story Apps:
We were sent 3 of the Parenting's O Story Story apps for the iPad to review:
Once I installed all three O Story Story apps we were sent, my Princess played with them all. She enjoyed Wendy's Giants List – and had the iPad read it to her. It also has a matching game that she easily went through. It didn't take her very long to use this app, but she did enjoy it.
The Spelling apps were a bit more difficult for her. Since she had just "read" Wendy's Giant List she really liked Wendy's Spelling List. We are working on sight words so this app is perfect for her age (4) right now.
This fun-filled educational app includes over 70 high frequency words that are perfect for early learning. With a simple-to-use touch and drag interface, your child will have hours of fun learning to spell.
The illustrations are fun and colorful and I actually liked the Things That Robots Spell app the most, but I think robots are cute. I like that these apps are educational and increase her learning during the summer months when we are not doing traditional daily homeschool. These are exactly the kind of apps that I like to have on our iPad for our 4 year old Princess.
Connect With O Story Story Apps:
*Disclosure – I was sent the above items for review purposes only. All opinions are mine.