We enjoy using natural cleaning products in our home. We feel like it is better for the environment and also better for our own health. The Willow Store makes using eco-friendly, natural laundry products much easier.
About the Willow Store Natural Laundry Products :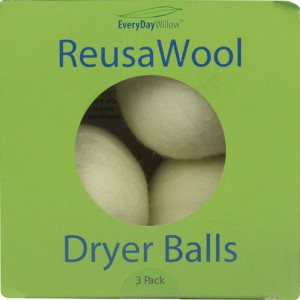 Wool Dryer Balls are the natural solution for softening your clothes without chemicals. Made completely from wool, they help your clothes tumble dry softly, and reduce the drying time by up to half. Great for all laundry. To use, simply toss 2-3 balls in your wet dryer and start. No need to remove them from the dryer, just reuse! Made in the USA this product lasts for many years.
Laundry Nuts are the all-natural laundry soap that grows on trees. Free from petroleum, our unscented laundry nuts easily get clothes clean, without harsh chemicals. Naturally occurring saponin in the nuts work to quickly clean even the dirtiest clothes without damaging or leaving residue. Completely biodegradable and eco-friendly. Safe for all laundry. Works with HE, top-loaders and gentle enough for hand washing. Each laundry nut can be used up to 5 times.
My Review of The Willow Store:
We use the wool dryer balls every time we do laundry now. They keep our clothes from being full of static and they clothes and towels come out soft. We don't need to add dryer sheets any longer. My husband especially loves these wool dryer balls because they are going to save us a lot of money. Easy to use and safe for clothing, we highly recommend getting wool dryer balls.
We used the laundry nuts with our Little Man's clothing. We wash all his clothes separate from ours since we have been using a more gently natural detergent for his clothing. Some of his clothing contains stains so I was not sure how well the laundry nut would work. I used 2 nuts for his clothing (heavy soiled clothing like cloth diapers can take 4-5 laundry nuts) and they came out clean. I think laundry nuts are quite cool. They look crazy – more like food than a cleaning agent – but they clean clothes without the chemicals and they don't leave any residue.
Connect With The Willow Store:
Website // Facebook // Twitter
*Disclosure: I was sent the above products for review purposes only. All opinions are mine.