There are so many cute products on the market for babies. Now that we have a new addition to our family, I have noticed so many things. One great company that creates cute baby products is BabyChix. You can find baby and toddler products including diapers, clothing, and swaddle blankets.
About BabyChix:
babychix® celebrates what we love most about children – the stories we share and laugh about, gift giving with style, and charitable contributions to improve the lives of all children, because with your help we can make a difference One Change at a Time! (One change at a Time is a charity that helps kids in foster care and homeless youth.)
Connect With BabyChix:
BabyChix Review: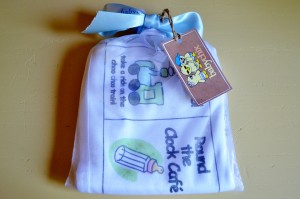 I was sent the BabyChix Babyopoly Swaddle to review. This swaddle blanket is so cute:
Game on! Our babyopoly swaddle is super soft and cute. Each unique square refelct the trials and tribulations of parenthood.
Packaged in such cute bag with ribbon, this Babyopoly Swaddle is the cutest swaddle blanket that I own. Unique and creative squares can be found on this "game board" – like Nap Time Square and Diaper Cake Towers. My favorite sqaure is the "Round the Clock Cafe" square. Since I am breastfeeding, my Little Man is eating around the clock.
Made with 65% polyester and 35% cotton, this swaddle is 30×40. Also made with sublimation printing so it won't fade. This swaddle blanket is such baby gift for you, your friends or family. I highly recommend it.
Buy BabyChix:
You can purchase your own Baby Chix Babyopoly Swaddle for $29.99  and more at the Baby Chix website.
Win BabyChix:
One lucky Long Wait For Isabella reader will win the 9″ cereamic diaper from BabyChix with baby's name, initial or monogram ($19.95 RV) in the Just For Baby Giveaway Hop. Come back July 30th for your chance to win these prizes and more!
*Disclosure: I was sent the above mentioned product for review purposes. All opinions are mine.