We have a community pool that we love going to in the summer. In fact, here in Western Washington it is only open June-August. So we take advantage of the sunny days when we can. We are very good about putting on 50 SPF on the kids when we are out in the sun. When the opportunity to review a swimsuit from grUVywear arose, I realized that I'd love to see how well this works for my daughter.
Facts:
We get about 80% of our total lifetime sun exposure during our first 18 years of life
Skin cancer is the fastest growing forms of cancer in the US
More than 90% of skin cancer is caused by sun exposure
About grUVywear:
grUVywear specializes in fashionable, fun, UV protective swim wear that offers a UPF of 50+, blocking over 98% of the sun's harmful rays.  grUVywear offers comfortable and stylish UV protective sun wear for babies, kids and adults. Dermatologists agree that the most effective way to protect our skin from harmful UV rays is to wear sun protective clothing.
grUVwear Review:
We were sent the Kids Purple Groove Swimshirt and Kids Purple Groove Bikini Skirt for our Princess to review. She was so excited when our package was open. She tried it on right away and danced around saying, "I love my new swimsuit." That made me happy. The fit is great for her and the colors are bright. The quality of the suit is top notch. I am so glad that we have sun protective swim clothing for her now. It makes me feel a lot better about spending sunny days outdoors at our local pool.
Since it was a warm day when the suit arrived, we decided to put on our sprinkler and let her try out her new suit: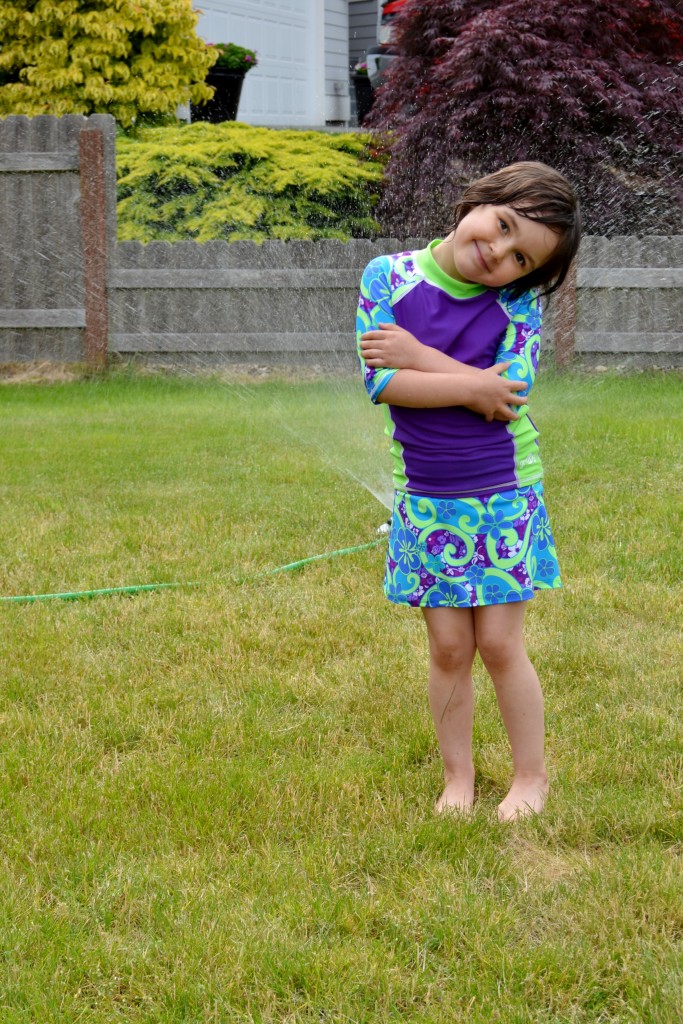 Buy grUVywear:
You can buy your own grUVwear swimsuit for you and your children at the grUVywear website. Use the code SAVE1534 to save 15% off your order! (Code expires July 15, 2012, so use it today!)
Connect with grUVywear:
*Disclosure: "I received a complimentary outfit from GrUVyWear in exchange for this post. All opinions expressed are my own."