I love when the weather begins to change here in the Northwest. Sunny days are so appreciated in a region where you get a lot of overcast skies and rain. Don't get me wrong, I have been all over this country traveling with my husband, and there is no place like home. Truly. But summertime is such a special time of year here.
The end of May kicks off warmer weather with 3 family birthdays and Memorial Day weekend. Family time is always associated with eating large meals in our family. When more than 30 family members gather together for these events, we always have great fun and great food. That food includes everyday desserts.
If the COOL WHIP Whipped Topping is forgotten at these family events, we are sure to hear about it. There is just something special about COOL WHIP that makes everyday desserts that much more appealing. One popular dessert in our family is an easy strawberry dessert.
We live in an area with a lot of farmland. In fact, we are surrounded by farmland. There probably isn't one country road in our county that does not have a strawberry stand this time of year. So strawberry summertime dessert is essential for our family dinners and a dollop of COOL WHIP is truly what makes this everyday dessert pop!
Everyday Strawberry Dessert:
strawberries
strawberry glaze
graham cracker crust
COOL WHIP
Clean and chop strawberries. Mix with strawberry glaze (found in produce department). Scoop into a graham cracker crust. Chill. Serve with a dollop of COOL WHIP.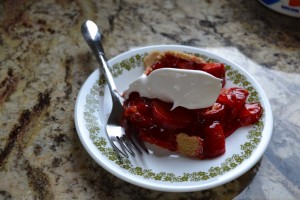 This one is a frequent attendee at our family dinners, but also just as an everyday dessert too. We make it usually once every two weeks for a simple, sweet, yummy dessert.
Another dessert we often make not just in the summertime, but through out the year is a peach "cobbler" dessert. This one is also quite simple. This everyday dessert shows up at family dinners and also church potlucks. The dish is gone quickly, and those who love it, have to get in line quickly to get it before it is gone.
Peach Everyday Dessert:
2 cans of peaches (14oz cans)
Sprinkle of tapioca
yellow cake mix
1 stick of butter
COOL WHIP
Pour 2 cans of peaches at bottom of cake pan. Sprinke with tapioca to thicken the peach juice when baking. Mix one stick of melted butter and one box of yellow cake mix. Crumble and pour cake mix over the peaches. Bake at 350 degrees for 30 minutes. Let cool and serve with COOL WHIP, or eat warm and let the COOL WHIP melt a bit. Easy dessert and yummy!
For more everyday desserts using COOL WHIP check out the COOL WHIP Facebook page.
*Disclosure: Sponsored posts are purely editorial content that we are pleased to have presented by a participating sponsor. Advertisers do not produce the content. I was compensated for this post as a member of Clever Girls Collective, but the content is all my own.