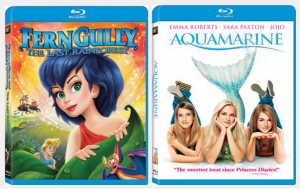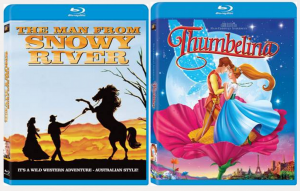 Enjoy Epic Adventures for All Ages On Blu-ray for the First Time. These four blu-rays came out on March 6 and would be a great addition to your Easter baskets this next weekend!
Experience the excitement of four unforgettable family films, FERNGULLY: THE LAST RAINFOREST, AQUAMARINE, THUMBELINA and THE MAN FROM SNOWY RIVER on Blu-ray for the first time March 6 from Twentieth Century Fox Home Entertainment.  Featuring talented casts and moving stories, these Blu-ray titles make great Easter gifts for the whole family to enjoy.
In these new to Blu-ray releases, all of the main characters find themselves in the middle of an adventure, whether it's saving a rainforest in Ferngully or escaping from a giant toad in Thumbelina.
Answer the question in the Rafflecopter form below to be entered in to win a copy of all four of these fun films!
4 Family Activities to enjoy this Spring:
Plant a Garden

: Some of the flowers that grow the most quickly around this time of year include sunflowers, which can grow up to 3 inches in a month, along with lettuce, radishes, and snow peas, all of which will aid in making a delicious spring salad for the whole family to enjoy.

Play in the Sprinklers:

Playing in the sprinklers is one of the most fun ways to cool off while getting some exercise as well. Put on your bathing suit and gather your friends around to play a fun game of Marco Polo or tag while you enjoy the spring weather.

Bake Something:

Spring is the time when some of the most colorful fruit is becoming ripe, so why not take advantage of some of nature's sweetest candy and bake some delicious strawberry shortcake?!

Explore Your Neighborhood

: Hop on your bike, your skateboard, or just use your feet, and get a move on, as you explore some nooks and crannies in your own backyard.
Free Ferngully Easter Card. Simply click and print.
Buy It:
All 4 Blu-rays are available to purchase on Fox Home Entertainment website and Amazon.
Win It!
One lucky Long Wait For Isabella reader will win a copy of all 4 of these Blu-rays. Simply fill out the Rafflecopter form below to win. Enter with your Facebook or email account.

a Rafflecopter giveaway
*Disclosure: I was sent these 4 Blu-rays for this feature and giveaway. I was not compensated in any other way. All opinions are mine alone.